See this photo of the beautiful young redhead? Her name is Emily. She's a sophomore here in Salem and just so happens to be our baby-sitter. The boys adore her, and so do we. Emily is bright, kind, hard-working, sweet and destined for greatness. (And maybe I'll even get a free hour of sitting from that last sentence.....eh, Emily?).

Emily will most likely go on to college, find a great job and eventually get married and have kids. She can do that because she comes from a wonderful, stable family who believes in her value as a girl and human being. As a middle-class American, her dreams have a fantastic shot at becoming reality.

One reason I like Emily so much is that she reminds me a lot of myself at that age. Both Emily and I, however, live much different lives than girls and women from the Mathare Valley slum in Kenya.

Home to more than one million people, Mathare Valley is no Beverly Hills, especially for girls and women. The stats are grim:
Every half hour, a women is raped in Kenya.

More than 20,000 children are sex-trafficked into Kenya annually.

21,000 women and girls are hospitalized every year from having an illegal, unsafe abortion in Kenya.

13,000 Kenyan girls are kicked out of school every year for getting pregnant.

Here's where Mercy House comes in.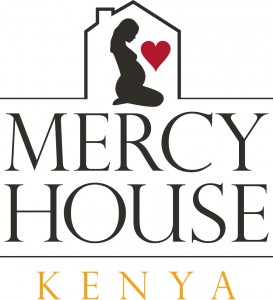 Founded in 2010 by one of my favorite bloggers, Mercy House Kenya is a maternity home in Nairobi for pregnant teenagers and young mothers. These girls were hopeless, often homeless and high-risk for unsafe abortions, physical/sexual abuse and a host of other poverty-related dangers.

The story of how it came about is pretty much a miracle. I won't go into all the details, but Kristen Welch is an absolute stud in my book. As "just" a SAHM of 3 with no experience in starting or even working at a non-profit, she almost single-handedly put together an organization across the world that to date has radically changed the lives of 8 young moms and their 8 babies.

Kristen saw a need and did something about it in a GIGANTIC way. Those kinds of guts seriously speak to me (not to mention challenge and convict!).

Another reason I love Mercy House: through regular updates/blogs, you really get to know their girls, their babies and their stories. I dig it.
To support their thriving program of pre/postnatal care, nutrition, counseling, education, medical expenses, job training, life skills, etc., Mercy House has a shop full of cute, practical stuff made by their girls (and sometimes "sister" maternity homes in other countries like India). So when they told me I could do a blog review, I squealed for joy and got right on it.


I already have several items from the Mercy House shop and love them all. The shirts are fitted, feminine, affordable (they have flash sales!) and extremely comfortable -- not stiff T-shirts like most non-profits give out for free from those giant shirt guns at concerts. And some genius (I'm thinking a girl) came up with the idea to put the logo lower on the shirt, ensuring that long hair like mine doesn't cover anything important.

The only slight drawback: the V-necks are a little low for a "modest is hottest" girl like me. But no problem; a cami like the one Emily is modeling solves that issue in a jiffy.
Don't want a shirt? No problem! The Mercy House shop offers lots of other goodies, like this awesome reusable tote.

I'm a big fan of reusable grocery bags, and I have to say, this one is my new favorite! It's waaay sturdier than my other bags -- I'm looking at you, Wal-Mart and Air Force -- and stands up stiffly for the cashier during checkout. While using it at Sunriver a few weeks ago, the clerk even remarked how much she liked it compared to the others she usually packed.

When I told her I was blogging about it, she said, "Make sure you tell your readers that I really liked it." So there you go. Not to mention, it's totally cute and made by former prostitutes in India now on the path to financial and personal freedom.


Simply put, social justice rocks, and sometimes looks good to boot.




Want to win this awesome "Love Mercy" tee or tote? I can help. Here's what to do: "like"

Mercy House's Facebook page,

then leave a comment either here or on my own Facebook page telling me which item you would like to win (plus your shirt size if you chose that option). Bonus: if you share this blog on your Facebook or Google+ and let me know, you get 2 entries! Make sure to leave your contact info if I don't know you personally.



Contest runs from Wednesday, March 27 to Sunday, March 31. Winner will be contacted via e-mail or Facebook. All opinions are my own and unpaid.



UPDATE: SARA STUCKER IS THE WINNER!